I dream. I engineer. I build.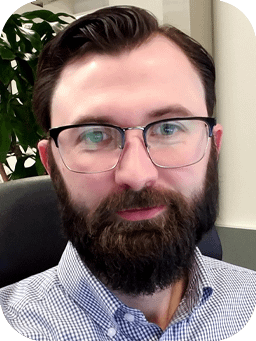 PRODUCT DESIGNER | MECHANICAL / DESIGN ENGINEER
Здравствуйте! (or hello) I am a product designer and mechanical / design engineer who is focused on designing reliable and durable products that help humanity stay comfortable and safe.
Some of my specialties include PPE (Personal Protective Equipment) design, temperature control design for fans, and taking paper napkin ideas all the way to the mass production level.
Characteristics: Hiking ٠ Traveling ٠ Guitar ٠ Design ٠ Sci-Fi ٠ Futurism ٠ Philosophy
Design Engineer at Innovation Designed
• Designed and rendered out multiple variations of hand held vacuum cleaners.
• Developed locking mechanism, filtration system and vacuum chamber.
• Managed an antimicrobial product from initial concept to quality control.
• Collaborated with overseas manufacturing for schedule and quality .
• Created packaging designs for product display and shipping cartons.
• Designed an interactive electronic board game system.
• Developed and machined prototype stamping tooling for patented products.
• Engineered cooling system for existing product line.
Today
Senior Design Engineer at Big Ass Fans
• Principle design engineer over the residential fan division.
• Engineered residential products with five patents pending.
• Collaborated with Amazon to integrate Echo into products.
• Implemented GD&T standardization throughout the engineering organization.
• Coordinated with overseas branch and vendors on design /
manufacturing objectives.
• Managed new product engineering lab and 3D printers.
• Created modular system for quick accessory attachment.
• Evaluated and created DFMEA, PFMEA and DVP&R for existing and new products.
2016
Designer at E.D. Bullard
• Designed products for thermal imaging, respiratory, head and fire protection.
• Engineered to NIOSH, NFPA, ANSI, ISO standards.
• SolidWorks administrator managing technical drawings, standards, release process and revision control.
• Mechanical design lead on multiple projects.
• Created specifications & assembly instructions for products.
• Evaluated and created DFMEA, PFMEA and DVP&R for products.
• Collaborated with electrical engineers in laying out board components, sizes, shapes, routing wires, and checking interferences.
• Designed EMI shields for electrical components.
2010
Education
Associates in Drafting & Design - ITT - 3.75 GPA
Certified SolidWorks Professional